19669 Anchor
CC WIP
-Order parts:
Container – DA97-08680G
Disp Ctrl – DA92-00368B
-Schedule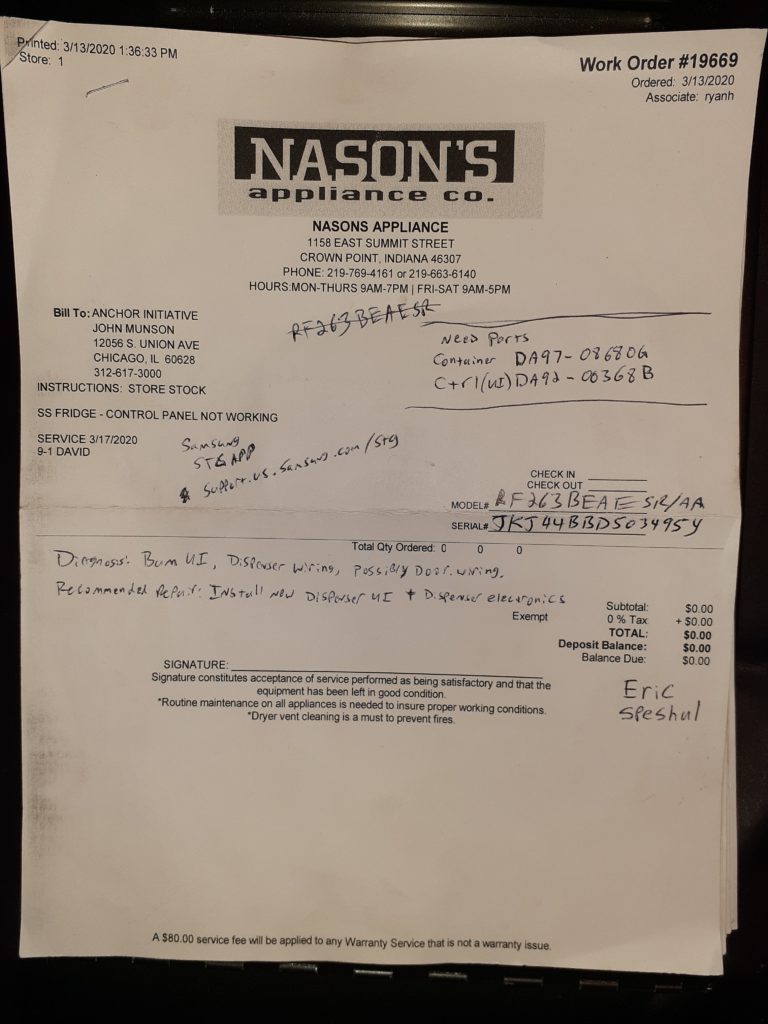 19505 Ruffalo
PHS Complete
-Installed motor + rollers. Good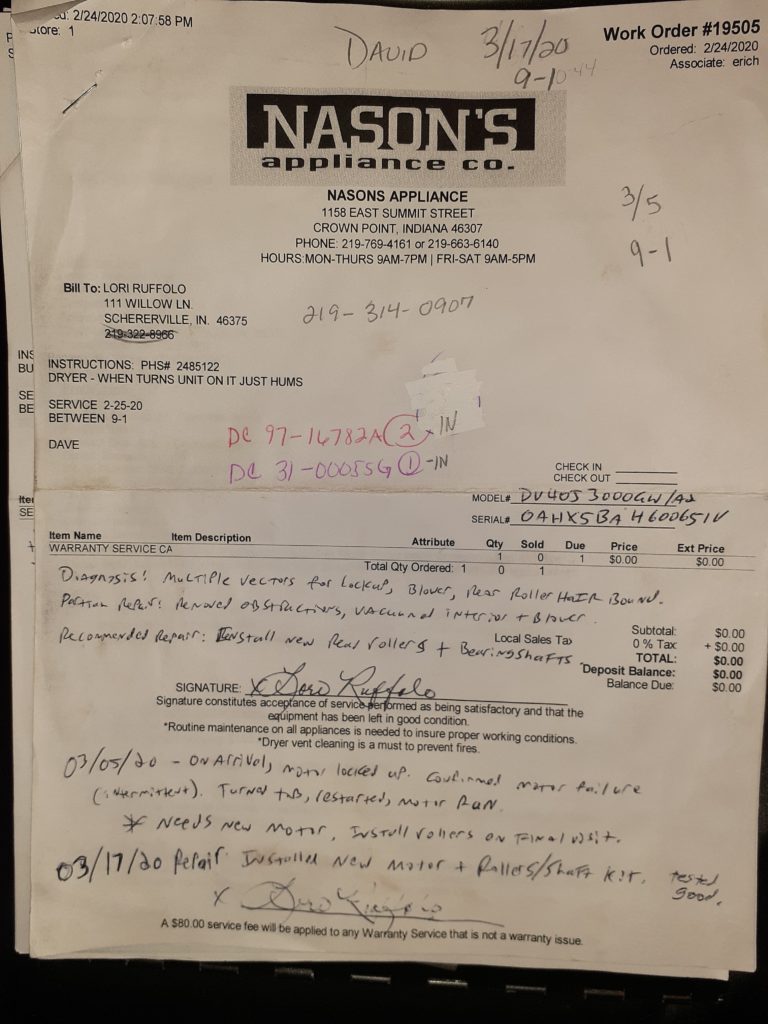 19626 Aydt
CC Complete $235.95 Check
-Inst element + fuse. Good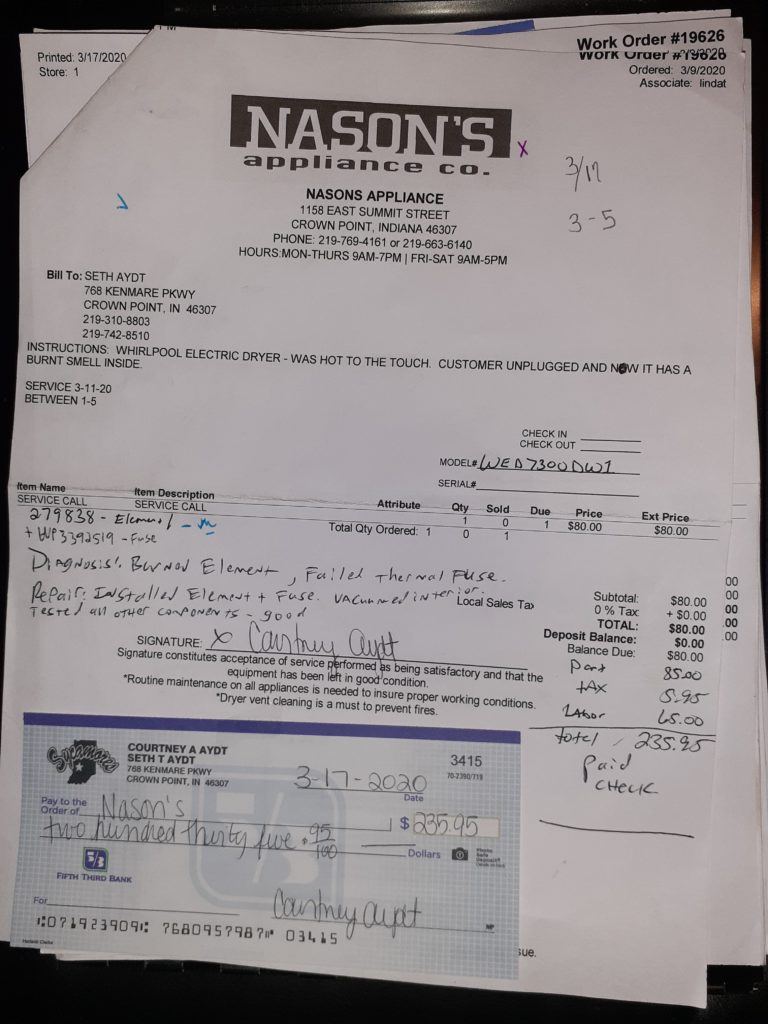 19687 Finnerty
CC WIP
-Order parts:
Heater – WR51X10055
-Defrosted. Schedule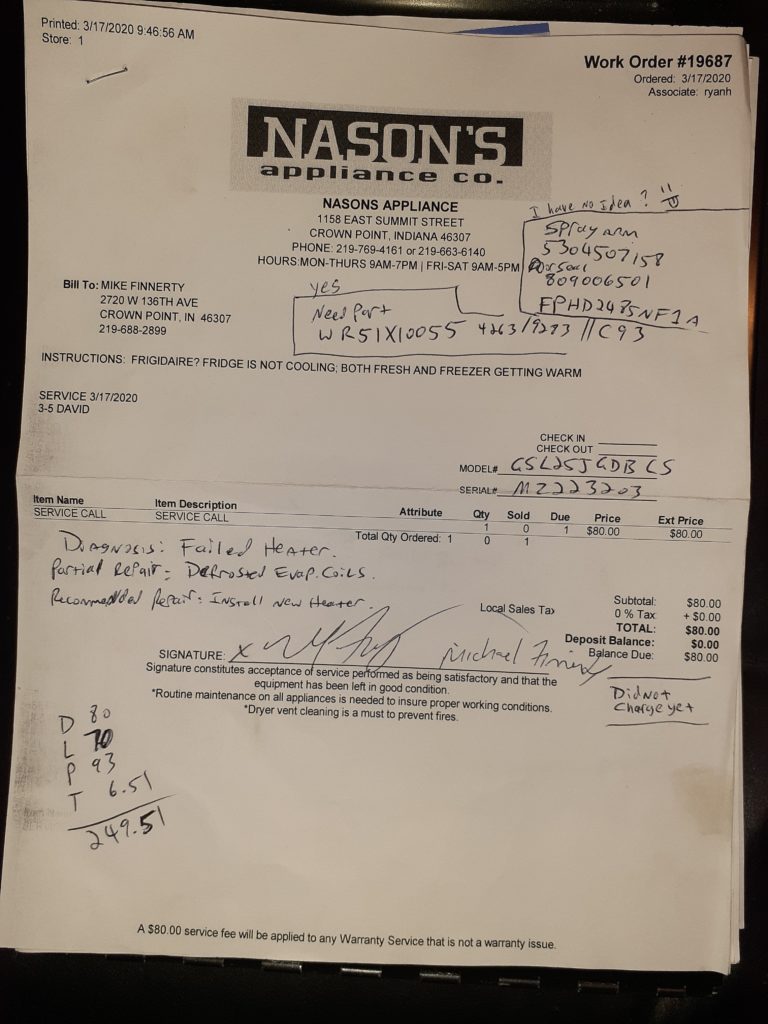 19683 Carey
CC Complete $80 Card(?)
-Cust will replace unit
-Please doublecheck card payment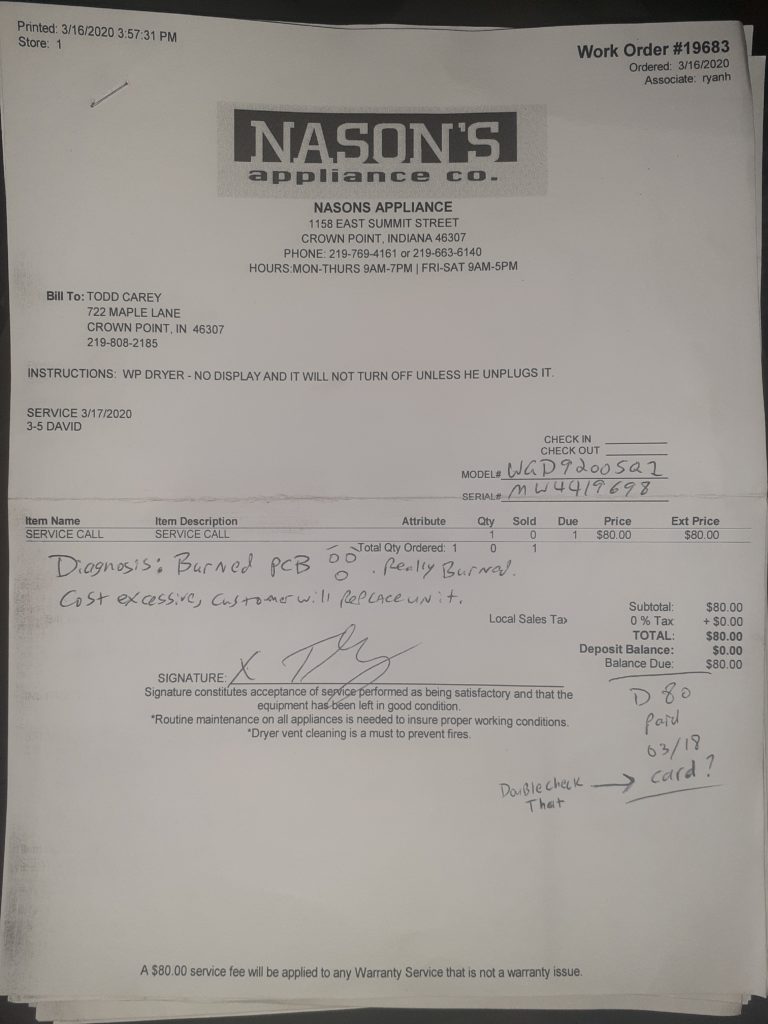 19676 Zaberdac
CC Complete $80 Check
-Parts NLA, cust will deal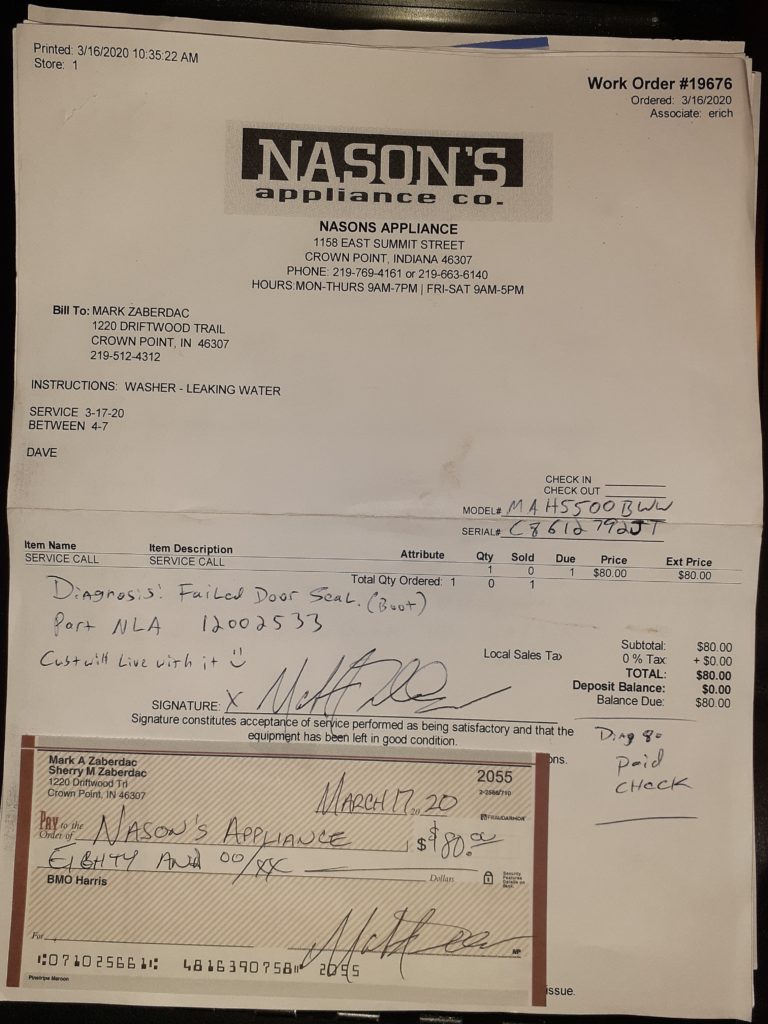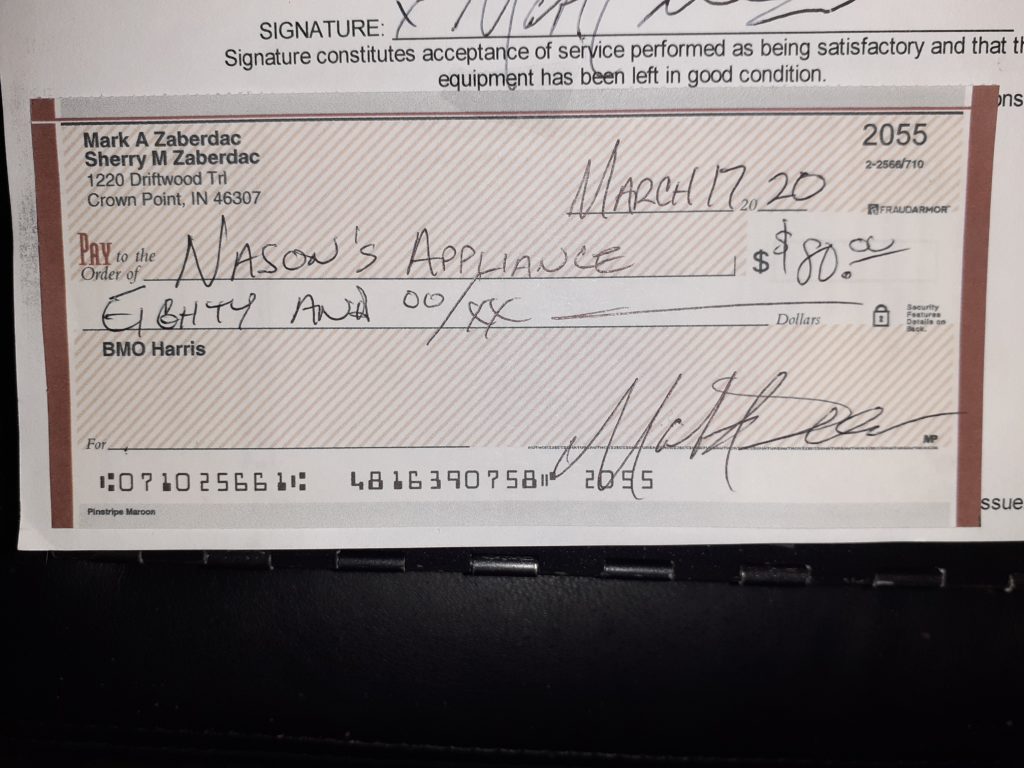 19684 Harter
PHS WIP
-Order parts:
Shifter WPW10006355
-Schedule for less blood on next receipt
19691 Vode
CC Cancelled per customer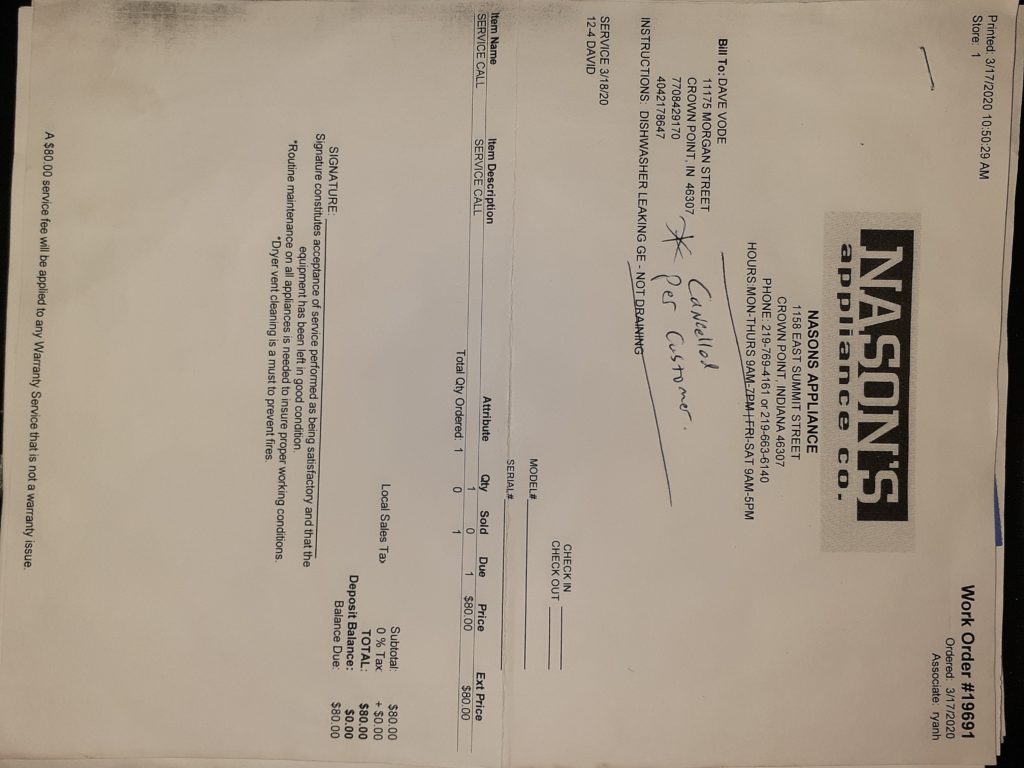 19690 Nikruto
CC WIP (did not charge yet)
-Order parts:
Idler arm W10837240
-Schedule
19657 Durakovich
CC Complete $40 Check
PEBKAC 🙂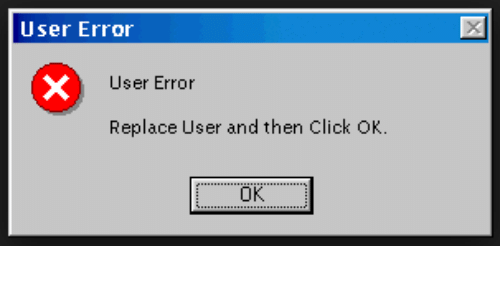 19696 Vuckovic Don't spell that wrong
CC Complete as of 03/20/20 $321.20 Check
-Installed PCB and every god damned inch of wire in that machine that wasn't already part of another component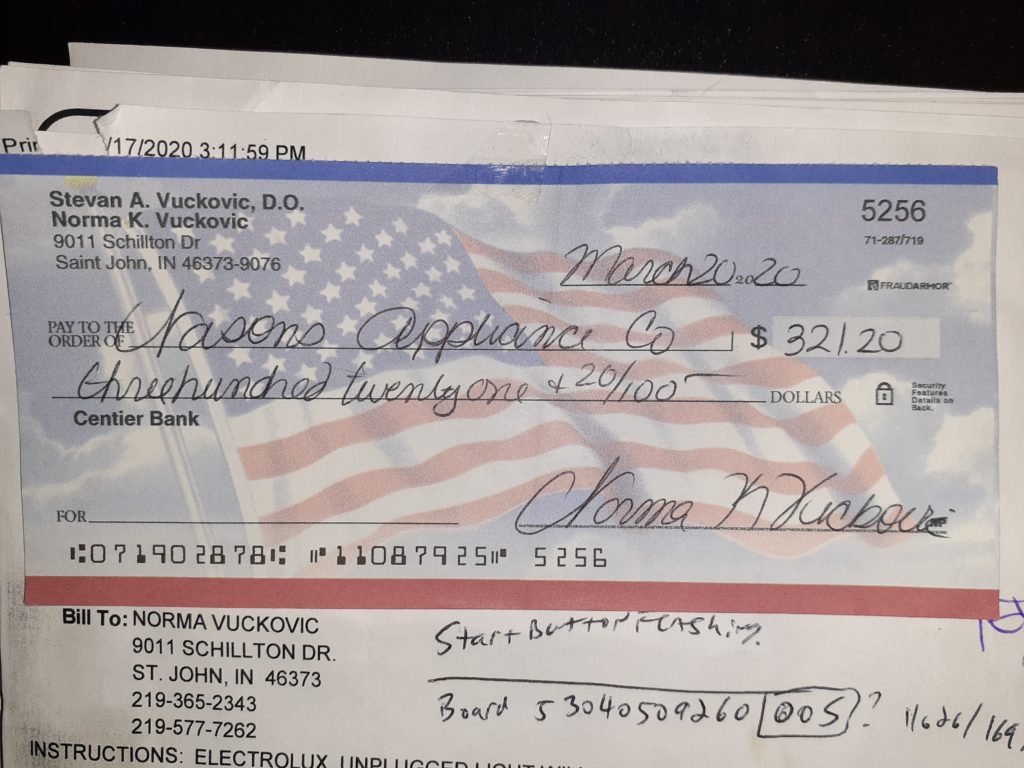 19692 Andres
CC Complete $80 Card(?)
-User error, but it had a thing to fix
-Please doublecheck card payment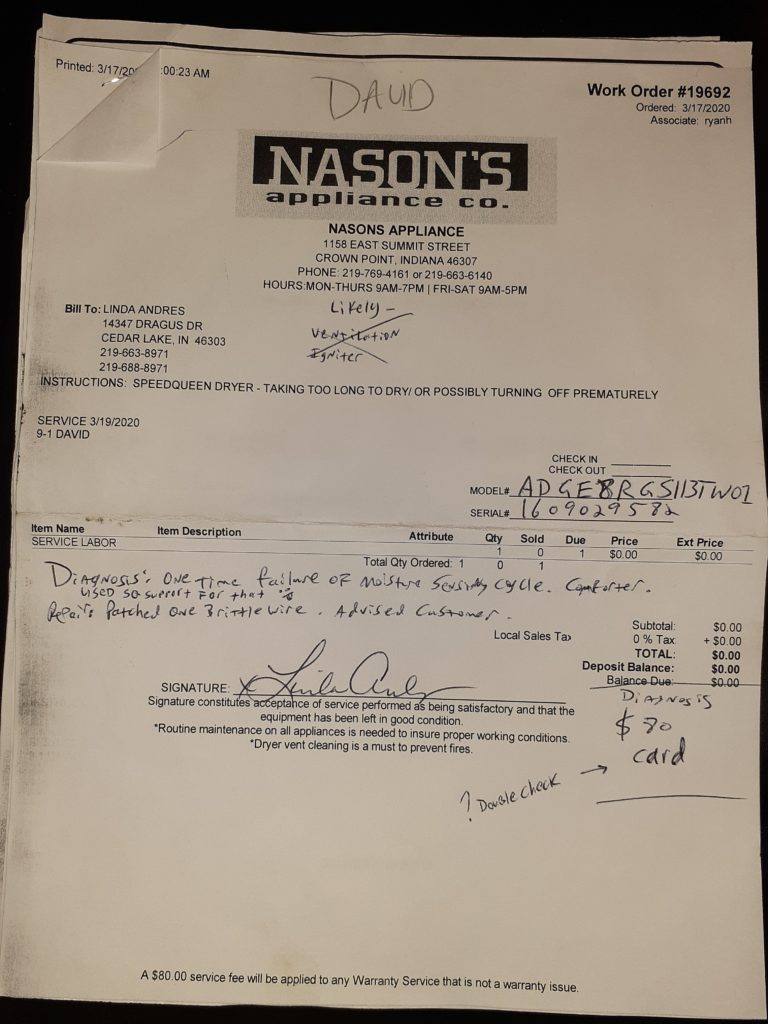 19695 Balicki
CC Complete until payment details arranged $80 Card or bill (?)
Insurance claim on like… everything. Not sure we want to be involved with this mess.
-Please doublecheck card payment and/or bill
19697 Irving
CC Complete $80 Card
-Disconnected water line from dryer. Customer approved.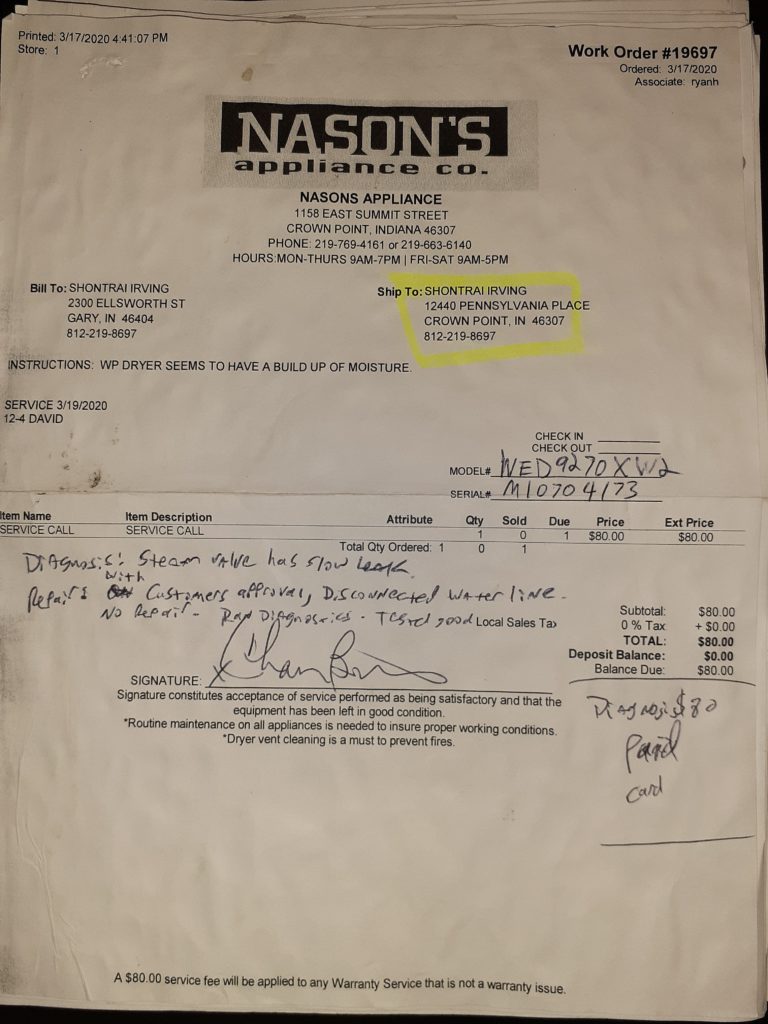 19701 Cypress Pointe
Store Warr
-Egads no model # on unit and needs PCB. Really need a model number from sales order or… something.
-Good luck 😛
19658 Doneski
CC No Charge WIP
-Adjusted all kinds of stuff
-Cust called back with frost returned 03/24
-Booooo. Going to need doors removed to properly adjust bottom hinges. Should technically be some charge for this as it is a step above and beyond a basic door replacement.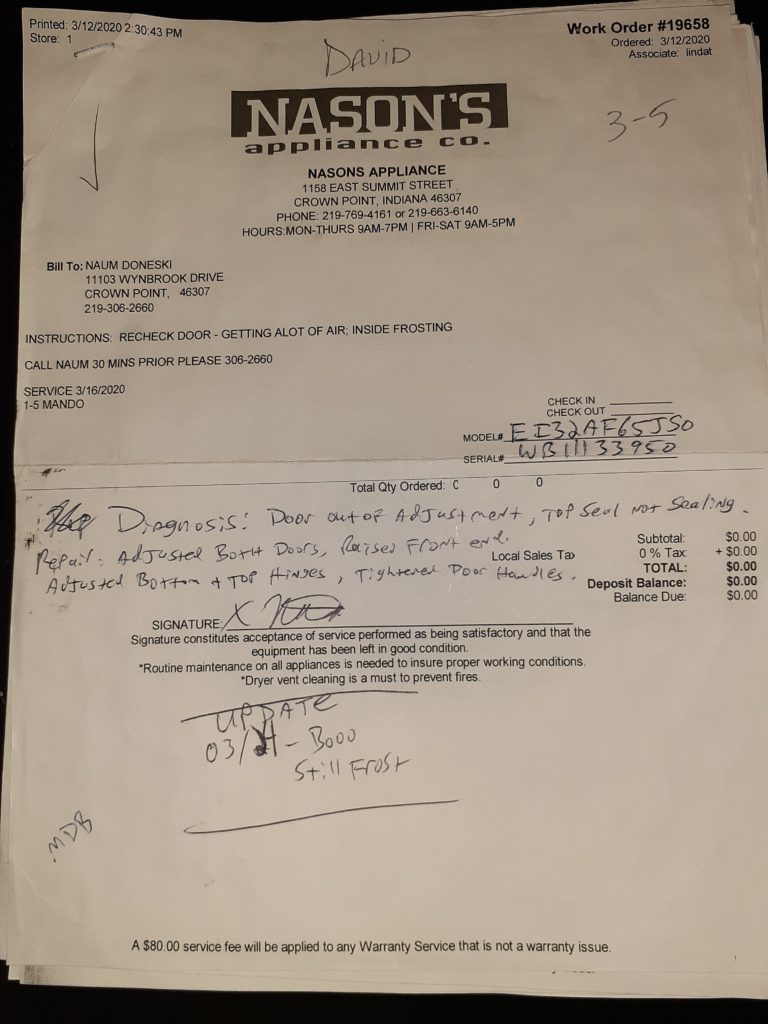 19689 Albrecht
CC Complete $103.50 Check
-Installed Maint Kit 4392065. Good.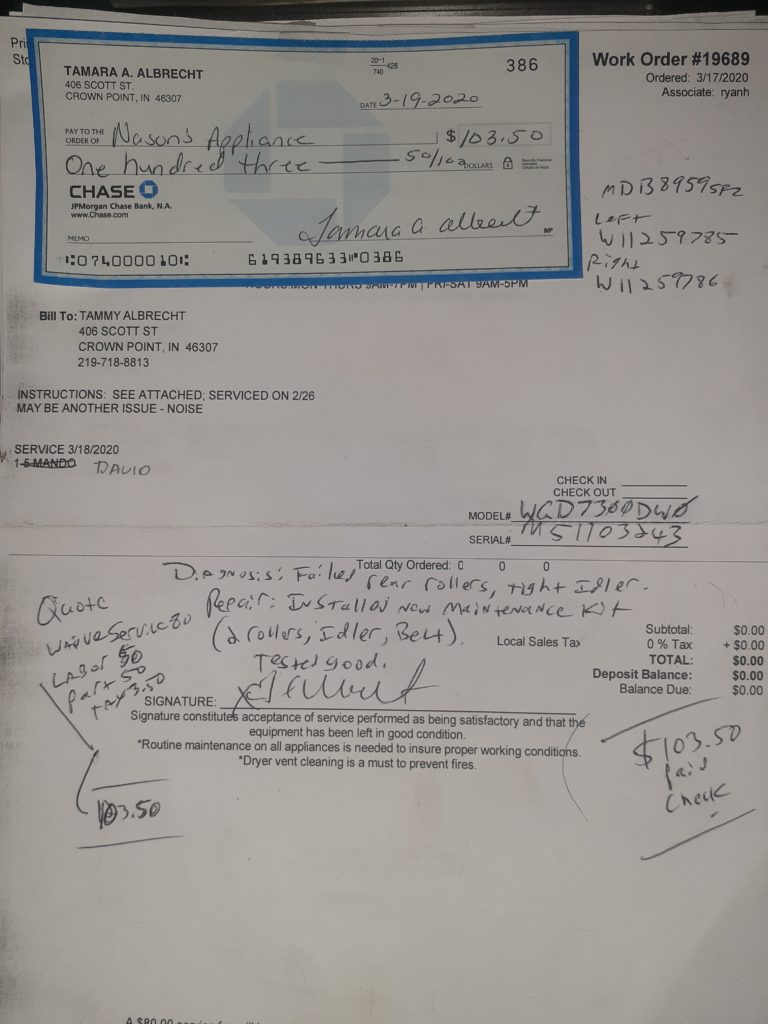 19703 Nelson
CC Complete $80 Card
-Bad motor + blower, expensive.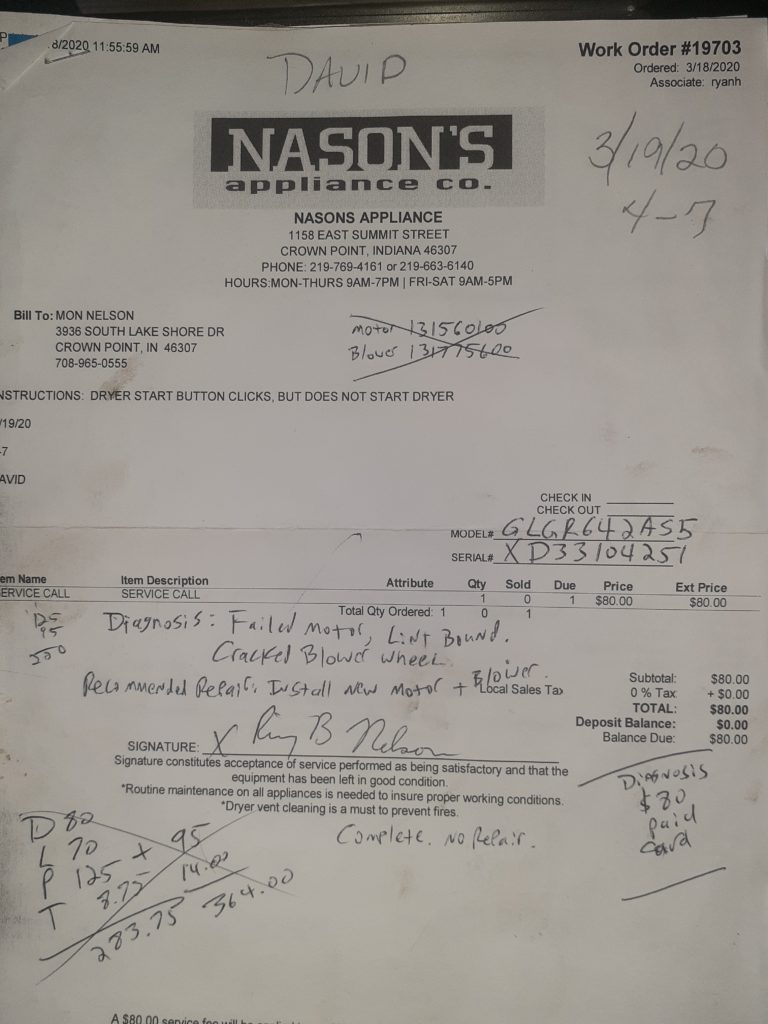 19711 Lubovich
CC Complete $310.50 Check
-Installed main PCB. Good. Bang. Pow. Zap.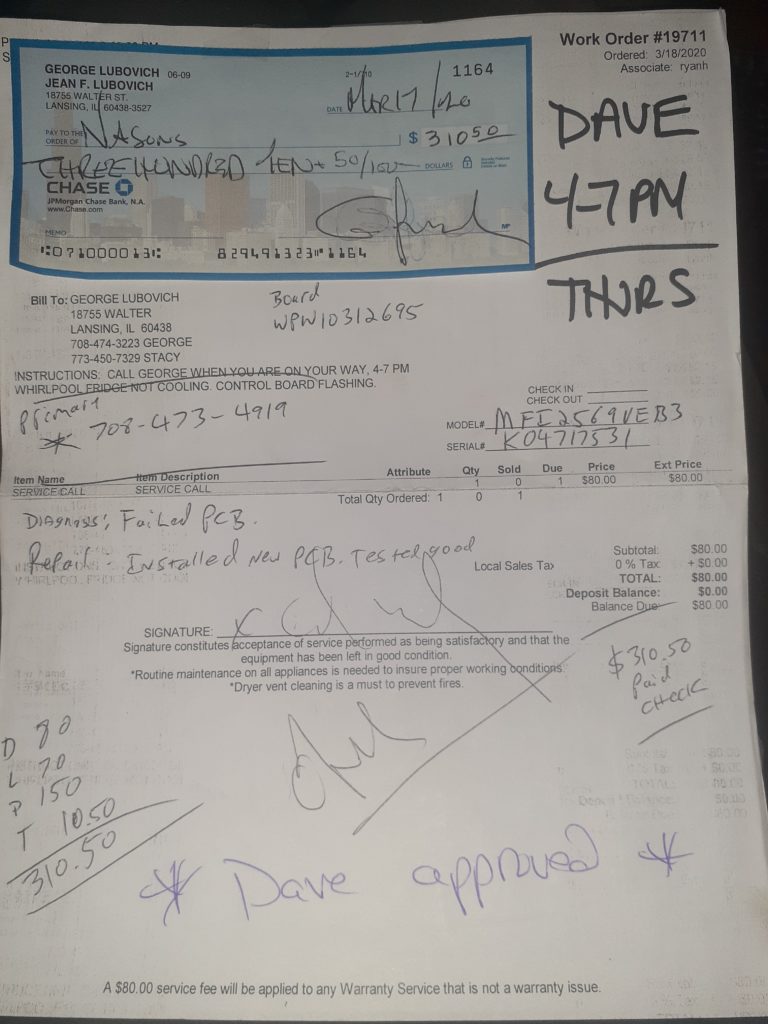 19511 Kaplan
PHS Waaaaah still WIP
-Installed drain hose, completing repair.
-Cust got F028 code again and door locked.
-Booooooooo. Fortunately customer has backup washer.
-May need MCB. May also need PCB. Could just be wiring. WP tech support not much help aside from the typical replace all the boards.
19702 Grindey
PHS WIP ($15 Did not charge yet)
-Partial repair installed maint kit 4392065
-Order parts:
Motor 279827
Screen WPW10717210
-Schedule
19699 Exnar
PHS Complete
-Removed barrett. Yay.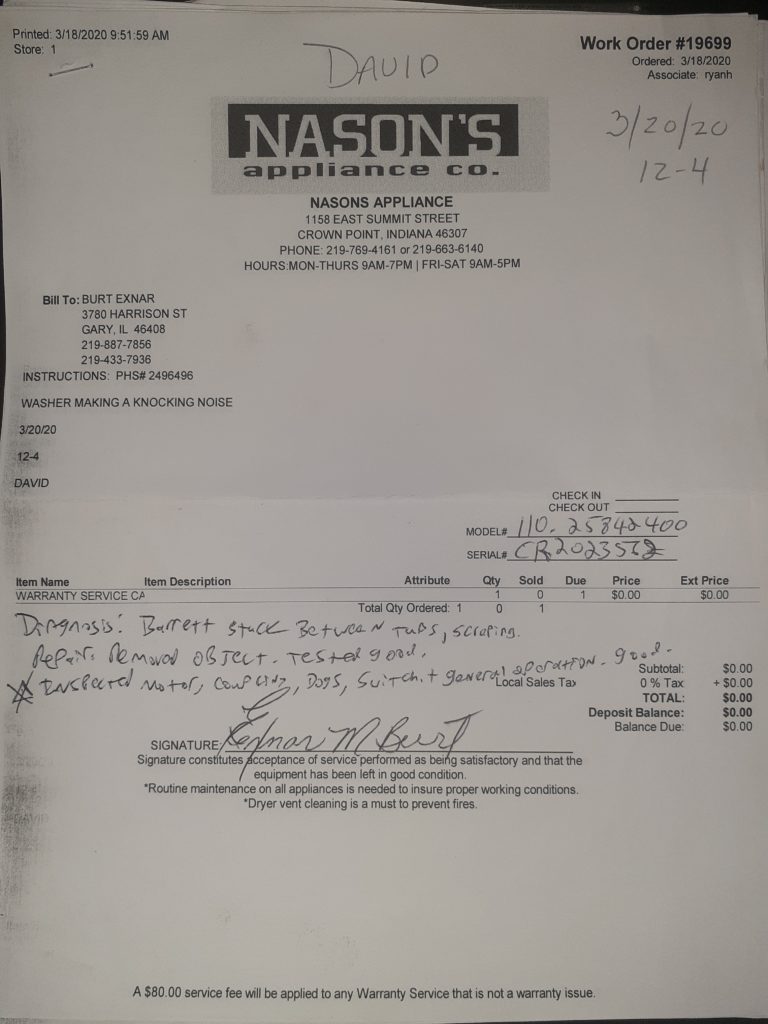 19712 Dates
CC Complete $237 Check
-Installed Ctrl 297370602. Good.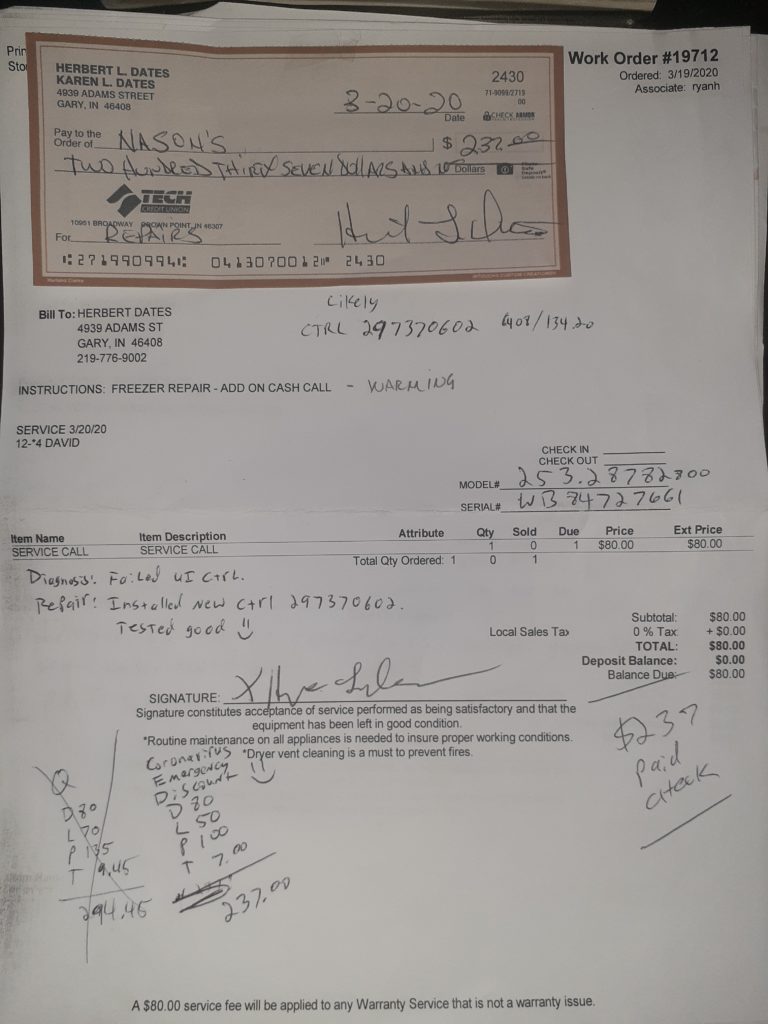 19700 Dates
PHS Complete
-Installed coils. Good.
19710 Kenar
CC Complete $100 Check
-Did a whiz bang diagnostic. Door was open.
19696 Vuckovic you got it already from 03-18.
-Just putting it here because it took 2.5 hours and it was my last job on Friday night before this… long holiday.
–Keep that boat floatin' kids! 🙂